WASHINGTON — For almost 40 years, Fred Gruner paid taxes on 23 acres of hilltop land in Lakeside that — on a clear day — boasts grand views of the Coronado Islands.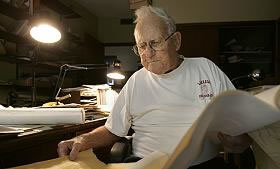 DON KOHLBAUER / Union-Tribune
In 1962, Fred Gruner bought 50 acres north of the San Diego River and south of the Silverwood wildlife sanctuary. Now, he wants help from Congress because part of it doesn't exist.
There's just one problem: The land doesn't exist.
Thanks to a federal mapping error more than 100 years ago, the acreage exists on paper, but not in reality.
Now, the 85-year-old former construction company owner is seeking redress from Congress, hoping that Rep. Duncan Hunter, R-El Cajon, and Sen. Dianne Feinstein, D-Calif., will rectify a government mistake that has robbed him of the retirement income he banked on.
"Through no fault of mine, an erroneous federal government land survey has caused me to lose much of my land that I thought I had owned for decades," said Gruner, who wants the federal government to give him land somewhere else or pay him for the land, which could be worth as much as $460,000.
"I don't want to make a profit from the government. I just don't want to lose."
In 1962, Gruner spent $18,000 for nearly 50 acres in Lakeside, just north of the San Diego River and south of the Silverwood wildlife sanctuary.
He was in his 40s then — a World War II veteran and a father of three. He hoped the land, which he bought from a private party, might someday cushion his retirement.
The best of the land, he thought, was atop the hill, just beyond his Willow Road home — 23 acres that could be reached only by four- wheel drive. It was secluded and peaceful up there, he said, and you could see as far as the Coronado Islands.
But in 1978, Gruner learned that he and his neighbor might both own the 23 hilltop acres. Gruner began to investigate.
He visited the county tax assessor's office. They sent him to the U.S. Bureau of Land Management in Palm Springs. That led him to the bureau's office in Sacramento. He even wrote a letter to its headquarters in Washington, D.C.
More than 20 years after Gruner started investigating, in February 2000, the bureau finished a new survey of Gruner's land.
The conclusion: In 1881, a surveyor placed the 23 acres in the northern end of the property Gruner bought. But five years earlier, in 1876, another surveyor placed the same land in a different parcel that eventually ended up in the hands of Gruner's neighbor.
On paper, Gruner and his neighbor each owned the 23 acres. In reality, only the neighbor did, because that deed predated Gruner's. Gruner was left with about half the property he thought he owned.
Gruner contacted Hunter, who persuaded Department of Interior lawyers to investigate. The attorneys concluded that the bureau is not legally obligated to reimburse Gruner.
As many as 77 other property owners in the area may have been affected by the mistaken survey, although only one other person besides Gruner has complained. The bureau and Hunter's office would not provide that person's name.
The 1881 surveyor, Gruner joked, probably "had a gallon of tequila on his mule, because he created a lot of land that didn't exist."
A small refund
The county tax assessor's office removed the nonexistent property from the tax rolls and recently refunded Gruner $138 — the amount of his most recent tax bill. Gruner said he has yet to be compensated for all the other years he paid taxes.
"Clearly, it is unfortunate for Mr. Gruner," said bureau spokeswoman Jan Bedrosian. "But it has always been the federal government's position — as difficult as that may be — that we shouldn't be in the business, 100 years later, of compensating people for survey errors that should have been recognized many years ago."
Bedrosian said most reputable title insurance companies would have known that the errors are documented in a 1988 book called "Lay of the Land: The History of Land Surveying in San Diego County." Gruner said he didn't have title insurance.
Hunter wrote his legislation, HR 3954, which would force the bureau to compensate Gruner for his loss — either with other land in San Diego or Imperial counties or with money. The bureau says the land is worth $10,000 to $20,000 per acre.
The House passed the bill in September. It now sits in the Senate.
Trust needed
"When a well-intentioned citizen . . . seeks to purchase a piece of land, he ought to be able to trust that the existing federal government survey of the land is reliable and that the responsible federal agency stands by their work," Hunter said at a hearing of the House Resources Committee.
During the hearing, bureau Deputy Director Jim Hughes said, "The BLM does not have the authority to convey land or give money to private parties in compensation for an error such as this."
Others in California and the West have run into similar problems.
"When the West was settled, you can imagine how rapidly people wished to get land from the federal government," Bedrosian said. "Unfortunately, shortcuts were made during the survey process."
The bureau's Lance Bishop, the agency's chief land surveyor in California, said complaints such as Gruner's arise "a half a dozen times every year."
"Sometimes, the people are occupying land they don't own," Bishop said. "Or it's not where they thought they owned it."
Bishop said bills similar to Hunter's have compensated a few landowners, though most have not been so fortunate.
As Congress hurries to wrap up work before its winter recess, Hunter and Feinstein are pushing for a Senate vote on the bill. A Hunter spokesman said it is unclear if the congressman will reintroduce the bill if it fails to pass this year.
Today, Gruner has five grandchildren. His wife is 10 years younger than he is, and he wants her to be financially comfortable after he dies.
"I kept fighting and even went up there to Washington," Gruner said. "I want to leave as much for my wife as I can, and as few headaches as possible."